Audrey Hepburn's Dress from Breakfast at Tiffany's Sold at Auction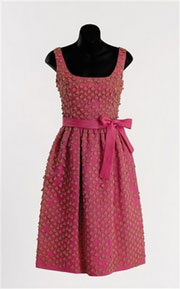 The English.eastday.com web site reports Hepburn's film costume auctioned for $192,000. A pink cocktail dress worn by Audrey Hepburn in the 1961 film "Breakfast at Tiffany's" was auctioned for 192,000 U.S. dollars in New York on Wednesday, more than six times its estimated value. The sleeveless dress, worn for the scene in which Holly Golightly discovers her brother has died, went to a private European buyer, Christie's auction house said in a statement.
The more famous little black dress Hepburn wore in the film sold for more than $800,000 dollars in London last year.

Among other lots in Wednesday's memorabilia auction was Marilyn Monroe's script for "Something's Got To Give," with the actress' handwritten notes, which sold for 19,200 dollars.

A costume worn by Barbra Streisand in the 1968 film "Funny Girl" went for 33,600 dollars.